The New MT2 Precision Turntable From McIntosh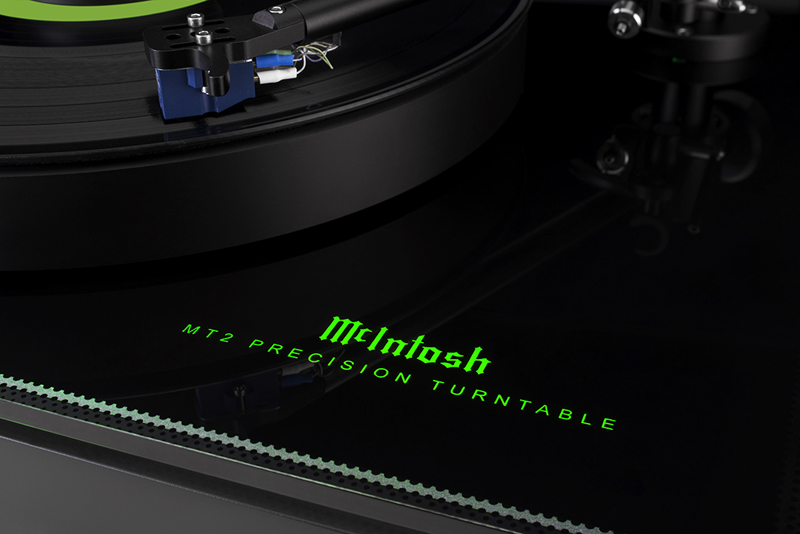 McIntosh hasn't slowed down or taken a breather with its steady release of new products in the past 6 months. The latest update from the audio behemoth takes aim at everyone's favorite analog device. The new MT2 Precision Turntable will hit the streets next month for a cool $4k and is loaded with all the usual fixings including a classic McIntosh green glow across the logo and even underneath the platter.

While $4k may ruffle a few feathers as an entry-level idea, the MT2 is indeed the new entry point to McIntosh's turntable line with the MT5 ($6.5k) and the MT10 ($9.5k) providing services upstream. The new table comes equipped with a moving coil cartridge, but McIntosh says the output is high enough to connect to either MC or moving magnet inputs on your phono preamp.
The 1″ deep platter is belt driven and made of balanced polyoxymethylene while an inner platter utilizes milled aluminum. The entire plate spins on a steel shaft in a sintered bronze bushing. The plinth is a wood base with acrylic plates to help catch any unwanted vibrations. Its enough to peak the interest of any turntable enthusiast, and still retains the classic McIntosh look to round out the collection of any collector or fan of the iconic brand.
Preorders can be placed through McIntosh's dealer network, more details and specs via the press release after the jump.