Audio-Technica's New Flagship $2k Headphone & AT-LP7 Turntable – CES 2018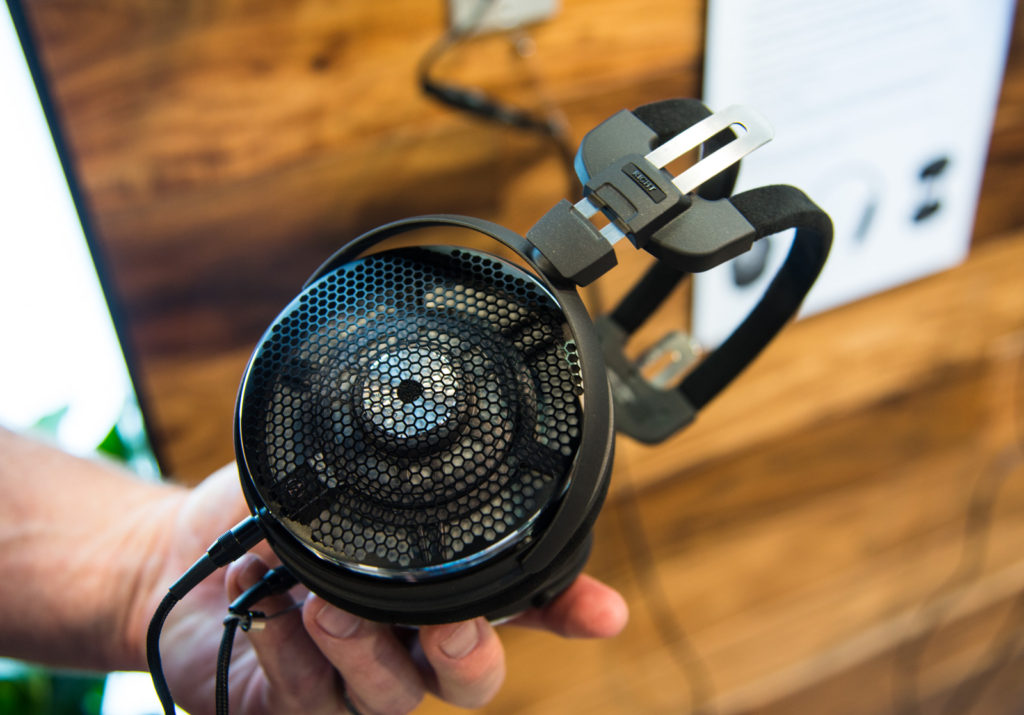 Audio-Technica usually pushes out a full booth experience at CES. Not merely just a stop-and-chat endeavor, invites go out and scheduling interfaces take over for a organized, usually memorable oasis. This year went a bit further than last with a relaxation experience highlighting the company's growing line of Bluetooth and noise-cancelling headphones. A massage chair was set up, noise cancelling headphones applied and a pseudo mediation script played with ambient spa sounds pushing the listener to far away places.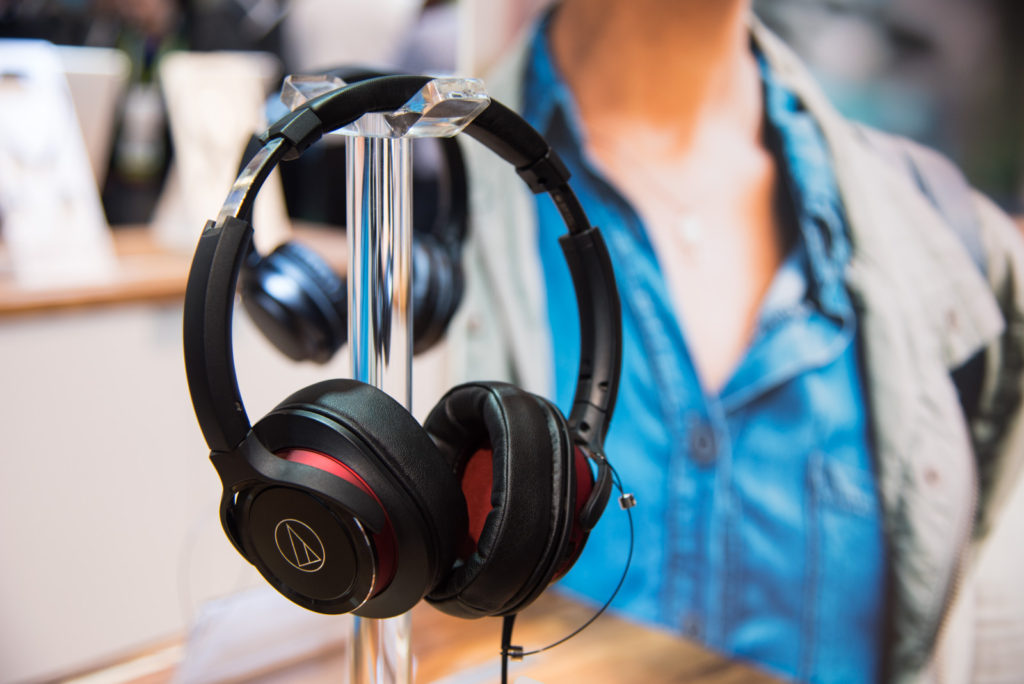 The script was pure gold in my humble opinion, and by far the most interesting thing I heard all weekend (sorry Devore). The voice over talent SOLD highly personalized meditation trip, all the while plugging the noise cancelling headphone. It was over-the-top, borderline absurd and at the same time spoke directly to my soul. I left the seat refreshed and even a bit out-of-sorts when I was swiftly handed over to the next PR agent.
A new flagship has emerged from the audio giant named the ATH-ADX5000 which will retail for a competitive $2k (for the range). Mostly known for the budget closed-back ATH-M50x in audiophile circles, many pixels have been spilled debating their merits on online forums like Reddit.com. Now hoping to make a play on the other side of the spectrum, the 5000 is an open-back tungsten-coated 58mm dynamic driver rated at a whopping 420 ohms of impedance. The frame is constructed of magnesium and is hand assembled in Japan. That's a lot of headphone on paper, and from what I could make out on the noisy show floor sounded fairly good, even with the hustle and bustle bleeding though the svelte honeycomb grill.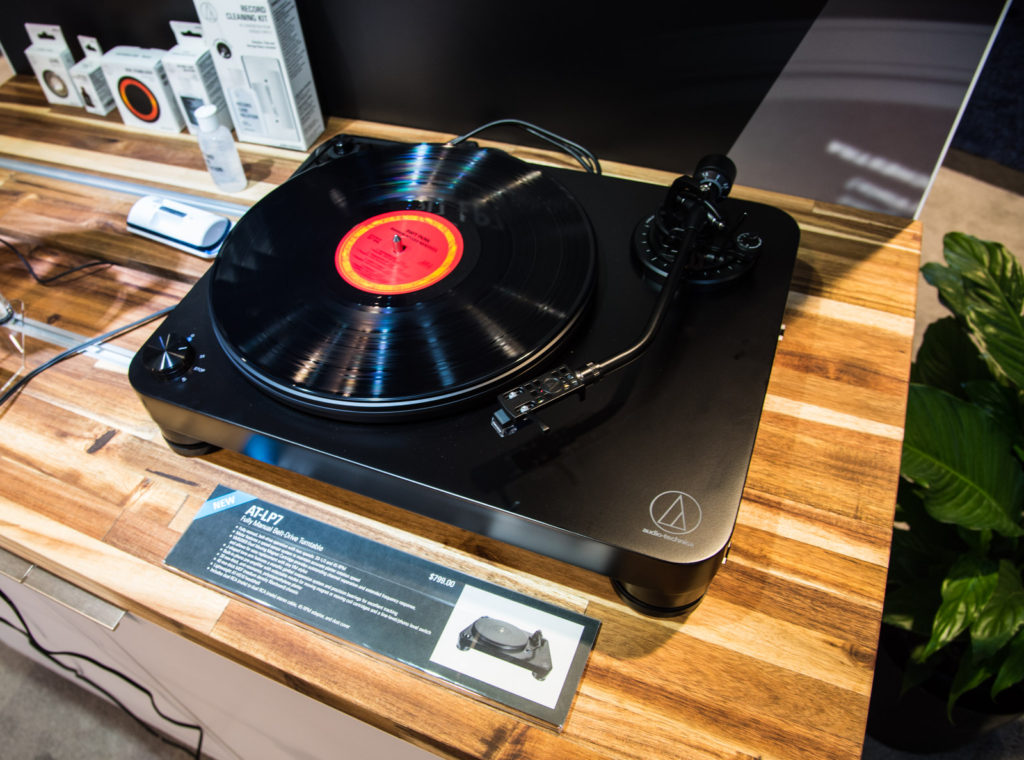 Also worthy of note is the new $800 AT-LP7 turntable. We've had some experience with the popular entry-level LP60 (it still comes up first on Amazon for the search term "turntable") so a fully manual, premium belt-drive option just seems like a natural extension. The 20mm polyoxymethylene platter is equipped with Audio-Technica's VM520EB dual MM cartridge and a built in phono pre amp that will let you select between MM, MC and line level modes.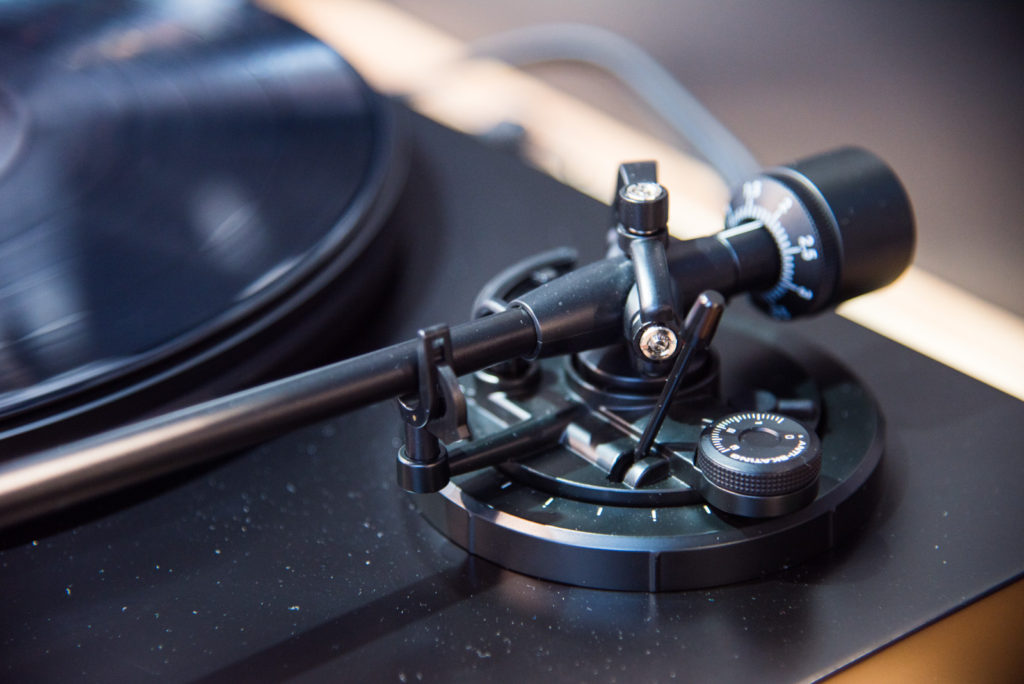 The J-Shaped tonearm has a metallic gimbal suspension system and looks like it fits the bill against the 40mm thick MDF chassis. Audio-Technica's press release on the subject made it clear that one could also easily swap out the included needle for any of the six others in the VM line, making use of the extensive collection of cartages the company also produces.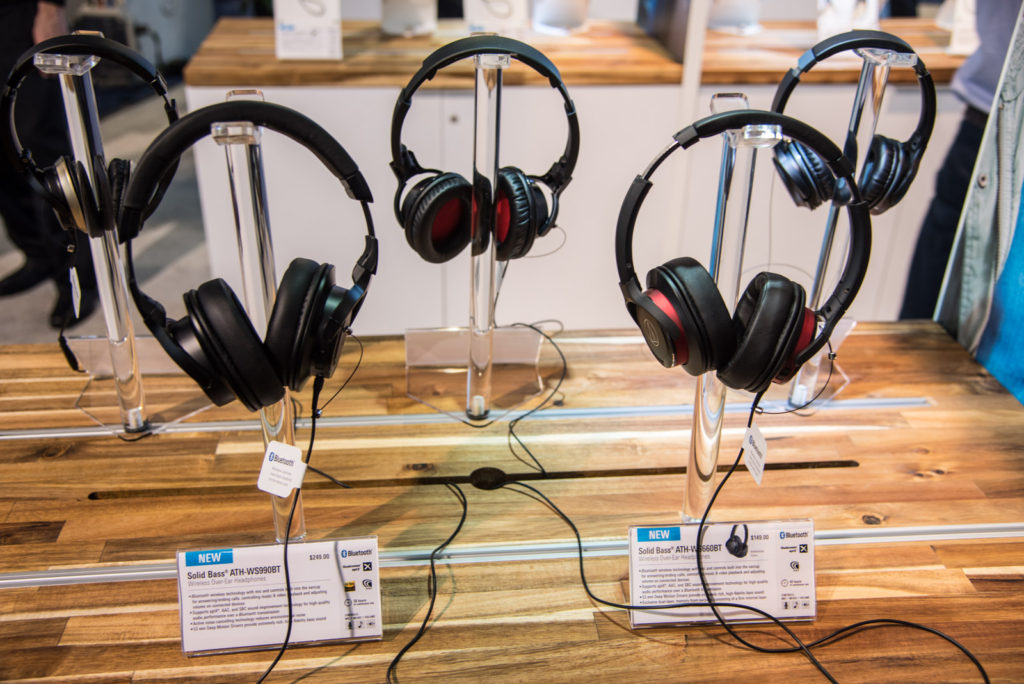 In addition to the two audiophile0-focused pieces above, AT showcased a whole host of Bluetooth, wireless and noise cancelling headphones with attached marketing such as QuietPoint wireless, Pure Digital Drive and Solid Bass.
The new ATH-ANC700BT applies active noise cancelling in an over-ear form while ATH-DSR5BT is the first to include pure digital drive in an IEM.